It's feeling a lot like Christmas at New Hair Clinic as our reception fills with flowers, gifts and cards.
Our patients are always telling us how much of a difference our doctor has made to their lives. Passionate about her profession and the ability to provide completely natural looking hair restoration to thousands of men and women, Dr Jennifer Martinick says the privilege of helping people is reward in itself.
As recipient of the International Society of Hair Restoration Surgery (ISHRS) Platinum Follicle Award, the highest accolade in the field of hair restoration, Dr Jennifer Martinick has received considerable recognition.
Yet, as we can see by her expression, our much-loved doctor continues to be overwhelmed and humbled by the many gestures of gratitude that she receives from her patients.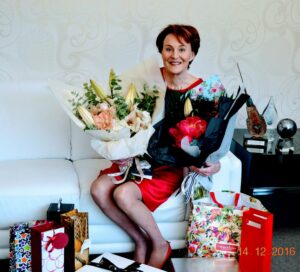 All of us at New Hair Clinic join Dr Jennifer Martinick in thanking our patients for their gifts and for putting their trust in us to naturally and permanently restore their hair.
We wish you all a safe and happy Christmas and hope that 2017 brings you all good health, great joy and success.