PATIENTS STORIES
REAL PEOPLE REAL STORIES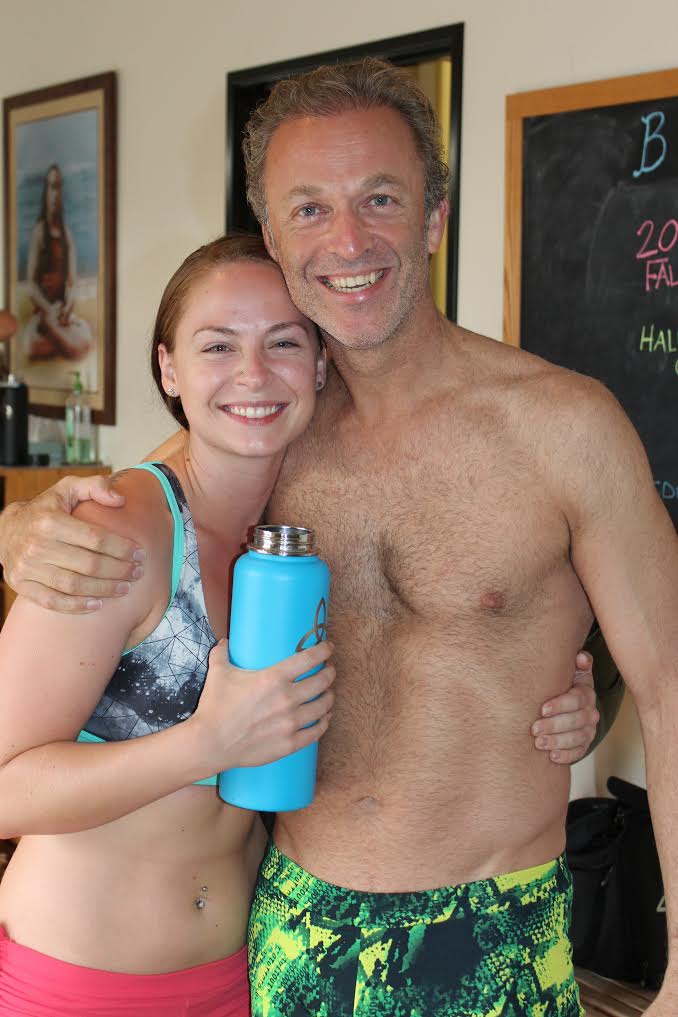 Actor Paul Gerrard's Infectious Zest For Life
It is almost two years since actor, television presenter and yoga instructor Paul Gerrard underwent hair transplant surgery with our dedicated doctors.
Living and working as an actor and television presenter between Sydney and London, Paul's varied and busy schedule requires energy and stamina.
Aside from his performance work, he also combines teaching yoga with voice-coaching to assist future instructors to connect effectively with their students.
A recent job took him to assisting at the Raja Yoga Teacher Training Academy in Los Angeles.
Pictured here at the Academy's graduation ceremony there is no evidence of the receding hairline Paul had before he had surgery with Dr Jennifer Martinick and Dr Sara Kotai at Man Cave Sydney in February 2015.
With a new hairline and a fuller head of hair Paul says he looks and feels much younger.
"It feels like new hair and a new life," he says.
"I've always thought of myself as an active go-getter but since the successful hair restoration procedure I find myself energised and feeling younger. It's amazing how the way you look can change the way you feel.
"Confidence and energy seem to be related, and now I have both.
"I've always kept my body fit and active and I like to look healthy and young. By the time I reached my forties it felt as though my hair was letting me down. Now my hair and body match and I'm feeling as youthful as the beautiful students that I teach!"
Rocking His New Hair
As a front man for a rockabilly band, having thinning hair seemed incongruous for the image Michael wanted to portray.
Affecting his appearance and confidence, Michael felt his receding hairline and thinning hair compromised his ability to project a strong stage presence.
"In the rockabilly scene, hair is a big part of your overall look, Michael says.
"I wore a wig for a while and although it looked okay, it could be uncomfortable. It was never going to be my ultimate solution. Ultimately, I wanted a solution that was permanent and natural."
Michael, who has chronic fatigue syndrome and agoraphobia, sought professional advice from leading hair restoration surgeon Dr Jennifer Martinick over eight years ago.
After a medical diagnosis to ensure his hair loss was not related to his health issues, Dr Martinick initially prescribed medication and the nutritional supplement, Help Hair Protein Shake to thicken his existing hair.
Along with being less expensive than alternative non-surgical solutions offered elsewhere, this treatment ensured Michael had healthy donor follicles available for a hair transplant in 2015.
Now 12 months after a procedure to thicken his frontal forelock area Michael enjoys a rejuvenated appearance and is sharing his experience with other men.
Unlike women, men tend to be more secretive about cosmetic issues with many fearing they will be ridiculed or seem vain for having a procedure, he says.
"It is really important to share stories and affirm other men's concerns about hair loss.
"I spoke to a twenty-eight year old guy who was worried what his work mates would think about his decision to have a hair transplant. But, the great thing about hair transplantation is the new hair comes through just as your own hair grows, so it isn't as if you go to work looking completely different after a procedure.
"The new growth is natural and there's time, if one wishes, to open the conversation about the treatment.
"If you feel good about yourself you are generally in a better position to earn and attract money, so I consider a hair transplant to be an investment in yourself."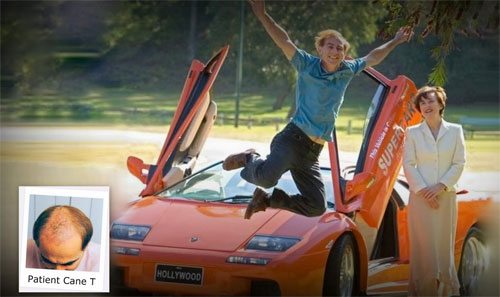 The Confidence Behind the High Performance Success
Luxury car builder Cane Taleski has many reasons to jump for joy. The City Beach man, who builds replica Lamborghinis at his Malaga factory for a boutique market, enjoys strong demand for his high performance cars.
The continued success of Mr Taleski's company, Supercars Australia Pty Ltd is testimony to his unique craftsmanship, keen eye for detail and business acumen.
Mr Taleski said he also attributed his success to the new found confidence he gained after being successfully treated for a condition which had long been a source of vexation to him.
He said a meeting with renowned hair restoration physician Dr Jennifer Martinick ended a decade long search to cover up scars left by previous scalp reduction surgery.
Mr Taleski, who is among the millions of Australian men with hair loss, said the scalp reduction surgery he had during the early 1990s was a futile attempt to cover up hereditary baldness.
The experience left him very wary of the hair restoration industry.
However, after a lot of time and research and an eventual meeting with Dr Jennifer Martinick, whose research into hair replacement techniques was making a positive difference for many burns victims and others with scalp damage, his faith in the ability to treat his condition was restored.
The rest as they say is history and he no longer has any signs of the former scars and baldness which affected his confidence.
Mr Taleski, who has had three 1000 graft hair transplant procedures, is among the thousands of Australian men to benefit from Dr Martinick's award winning hair restoration surgical procedures.
Her pioneering surgical techniques, which have seen her honoured in New York for being the best in her field, draw on a unique combination of artistry, meticulous attention to detail and optimal placement of the transplanted hair follicle to ensure a completely natural looking hair transplant.
Mr Taleski said the confidence regained since having his hair restored had translated into many other areas of his life.
"I feel a lot more confident about meeting people in both business and social situations. People should never underestimate the link between confidence and success."
"Everyone who knows me and my work in building replica Lamborghinis will tell you that I do not settle for anything less than perfection."
BE THE NEW YOU
4500 HAPPY PATIENTS
MEDICALLY PROVEN
98% SUCCESS RATE
BEGIN TODAY!

SYDNEY
LEVEL 3/30-36 BAY ST, DOUBLE BAY
NSW 2028
PERTH
4/21 STIRLING HIGHWAY
NEDLANDS WA 6009
MELBOURNE
LEVEL 19 COMO CENTRE 644 CHAPEL ST (CNR CHAPEL & TOORAK) SOUTH YARRA VIC 3141